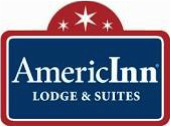 Case Study: AmericInn
Make a small motel chain into the voice that gives Americans permission to take a break.
Goals:
Put AmericInn top-of-mind among American road trippers.

Create a summer promotion for AmericInn to generate brand awareness.

Establish differentiation: allow AmericInn — despite having locations in less-desirable destinations — to punch above its weight in the category.
What we did:
To promote this concept, we created "Random Acts of Vacation."

The promotion asked people to, "Nominate someone you know who deserves a vacation—a friend, family member, someone you love, or just a person who deserves a few nights away.

Nominations were taken, in 50 words or less, through:

 

americinn.com, Facebook, Twitter, email, Instagram, and text, and were posted to a special microsite where anyone can read them.
Starting on Memorial Day and running through Labor Day, AmericInn chose one nominee each day to win two free nights at any AmericInn.

 

The nominator also won two free nights.

We built a radio campaign, microsite and digital advertising to push nominations.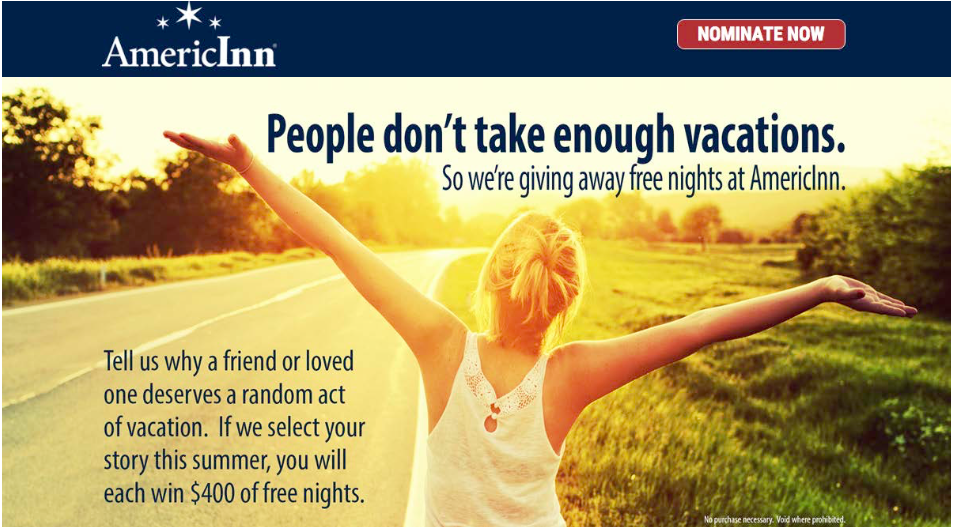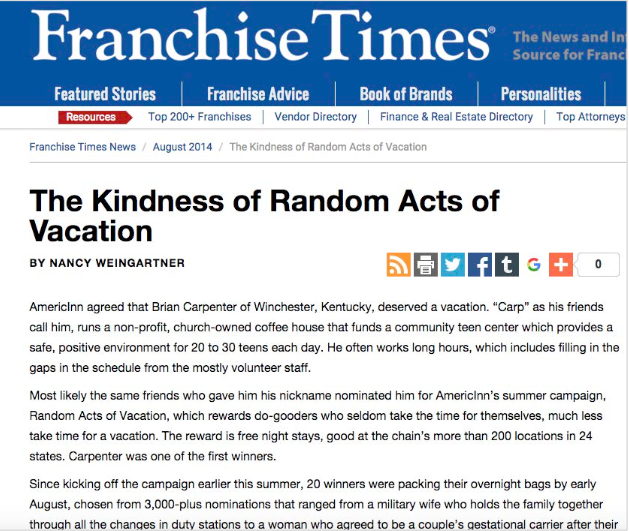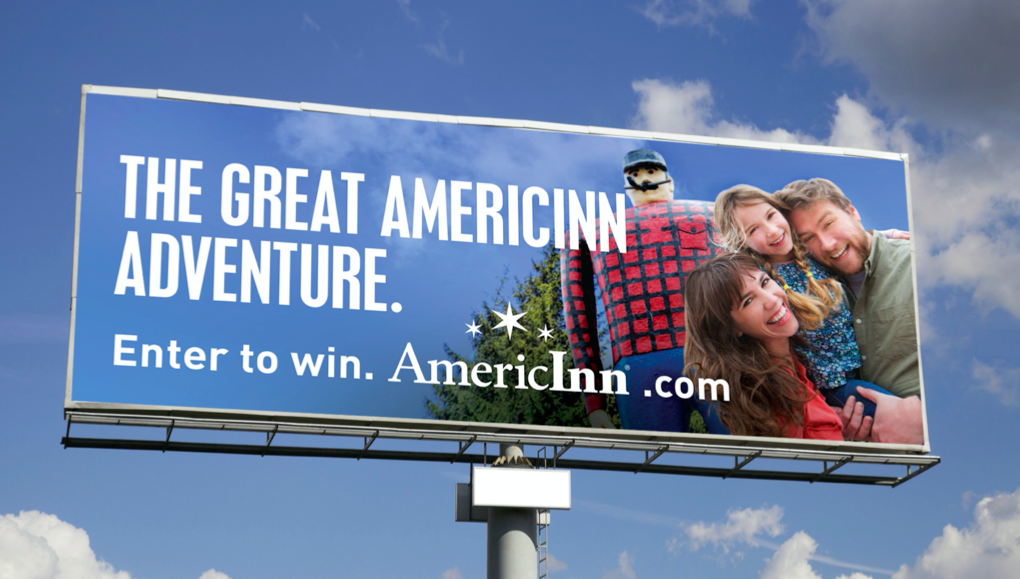 Results:
More than 3,000 online nominations were received from 49 states. The contest awarded deserving recipients free nights at any of more than 200 AmericInn locations in 24 states.

AmericInn's 2014 'Random Acts of Vacation' marketing campaign won the Adrian Award from the Hotel Sales and Marketing Association in digital marketing. The HSMAI Adrian Awards are the largest and most prestigious global travel marketing competition.

In following years we were asked to create new follow-up campaigns. "The Great AmericInn Adventure" was also a successful, award-winning campaign that drove awareness as well as traffic.
Measurement:
Following our campaign, the brand's Market Metrix customer satisfaction score was 92 percent, with 75 percent saying they are likely to recommend AmericInn.

The Smith Travel Report (STR) market share index for AmericInn rose to 109, indicating that the brand continues to outperform the midscale segment.