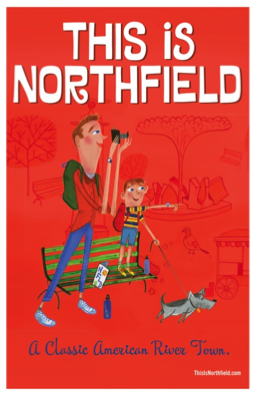 Case Study: This is Northfield
CHALLENGE: The small Midwestern town of Northfield may be best known in tourism circles for being the home of the "Defeat of Jesse James." The town's other amenities include a historic main street shopping district, two nationally ranked colleges, a river, natural scenic beauty, and a thriving arts scene. Our team was tasked with creating a unified tourism brand umbrella to celebrate these various — and sometimes fractious — factions.
What we did:
Getting buy-in from so many different corners was no easy task. How to sell Northfield's history alongside its youth scene? How to represent its arts culture and still give proper respect to its bread and butter "wild west" heritage? We partnered with Haberman to arrive at a solution everyone could —and did— get excited about. Drawing inspiration from golden era travel guides and classic children's literature, our team created an illustrated retro poster series that was at once quirky, artsy, hip, and historic. Each individual poster represented a different attraction and could serve as a standard for that bloc. The larger "This is Northfield" brand narrative now serves as a rallying call for all commercial, educational, arts, and outdoor interests.
Results:
Big hit. Internally, the campaign achieved the impossible…almost universal acceptance and praise from all parties. The website ThisIsNorthfield.com has regular traffic as a portal into other Northfield sites. And social media ballooned. Externally the campaign has attracted local and regional news coverage and the city's advertising efforts are beginning to represent the same (charming) voice across platforms. The art has been used for the city's brochure and plans are in the works to extend it with more posters portraying more area attractions. And of course, the swag is flying off the shelves.